The NFL Kicks off in TWO DAYS!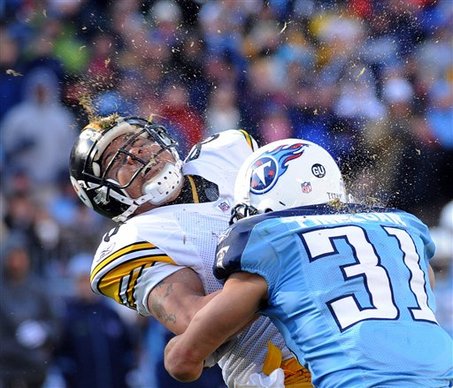 (AP): Tennessee came up short in making their long playoff run in '09. The
Steelers however, they won the Super Bowl. Which team will start down the
right path in Week 1? We'll find out Sept. 10th. Get your Opening Kickoff
Night Pick from MainEvent Bets for only $5


The NFL will kick off it's regular season Thursday, September the 10th when the defending Super Bowl Champion Pittsburgh Steelers open up against last year's AFC South Winner, the Tennessee Titans. In what should be a hard faught battle of two of the NFL's toughest defenses, it is a GREAT way to kick off the new season. MainEvent Bets will be offering a SPECIAL $5 Pass for the NFL SEASON OPENING GAME! That's right, Sept. 10th will be your chance to try us out for just $5! Don't miss your chance to get your NFL season started right, with an opening kickoff night WIN against the books!

NFL SEASON PASS $400! ***
NFL WEEKEND PASS (All Sunday games + MNF) $25
SPECIAL KICKOFF NIGHT PICK $5 (BUY NOW- ALL TIME LOW PRICE!!!!!!!)
***Season Pass will be 20% off though Week 3 of the NFL Season. After Week 3, it will return to it's normal price of $500 so act now! Can be made in 1 or 2 payments, upon request.
___________________________
NFL SCORES
STANDINGS
NEWS
___________________________



NFL Current Week Record:

-


NFL MTD Record:

-


NFL Regular Season Record:

-


NFL 2009 Preseason Record:

10-3-1
___________________________


What a Week in College Football!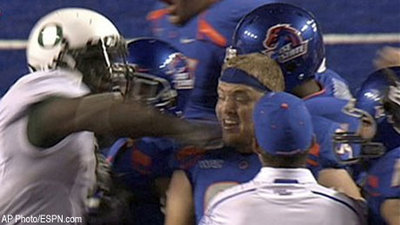 (AP): Oregon RB Blount connecting with a right on a Boise State platyer after a 19-8 loss on Thursday night. Main Event Bets correctly had Boise State, laying the 3 points at home. MEB went 8-0 opening weekend in CFB.
Wow, What a weekend in college football!! BYU and Boise State get HUGE wins, Sam Bradford goes down, Ohio State has a close call, and Miami and Florida State play a classic on Monday Night. Not only did we have that much great action on the field, but MainEvent Bets went 8-0 THIS WEEKEND! That's right a perfect 8-0. We wen't 5-0 ATS, 3-0 SU, and 1-0 O/U. It is just the start to what is going to be a hugely profitable season! Don't miss out on your chance to cash in! Not only will you enjoy the action on the field, you'll be ADDING RIGHT TO YOUR WALLET! Get your full season NCAA pass at a 20% discount before Week 3! That's right,
you can get your NCAA ENTIRE SEASON PASS for just $320.00 now through week 3!
You will be able to cash in ALL year. Member Picks were up
+900 UNITS in ONE WEEK!
In this package, you will recieve all of our weeks, for the ENITRE SEASON, THROUGH THE BOWLS with WRITE-UPS AS TO WHY WE'LL WIN! Take advatage of the opporunity now as the season package will be back to it's normal $400 price week 3.



NCAA SEASON PASS- ENTIRE Season + Bowls! $320! ***

NCAA WEEKEND PASS (All Picks) $20

***Season Pass will be 20% off though Week 3 of the NCAA Season. After Week 3, it will return to it's normal price of $400 so act now! Can be made in 1 or 2 payments, upon request.

___________________________

NCAA SCORES
CONFERENCE STANDINGS
NEWS
___________________________
NCAA Current Week Record:

8-0


NCAA MTD Record:

8-0


NCAA Season Record:

8-0



Sat. Sept. 5th:


Navy +23 over Ohio State..

WIN


Kentucky -15 over Miami Oh...

WIN


Syracuse +7 1/2 over Minnesota...

WIN


Oklahoma State -5 over Georgia.....

WIN





Fri Sept. 4th:


Tulsa ML -600 over Tulane....

WIN


___________________________
Don't miss the MLB Stretch Run!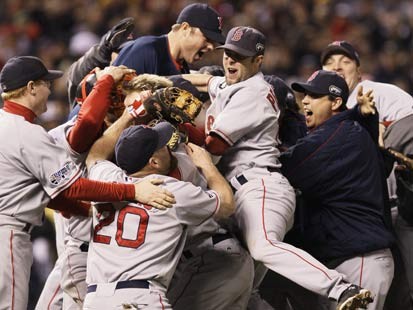 (AP): The Red Sox celebrating their World Series win in 2007. With the playoffs right around the corner, who will be celebrating this year? Get all the picks for the rest of the MLB Season for just $50!
Major League Baseball is closing in on it's postseason, we are just four weeks away. The division favorites are starting to seperate themselves a bit but the wild card race still looks to be going down to the wire! Don't forget about baseball just because football is here! There is still be money to be made! Our services have won at a 60% clip for the ENTIRE MLB season and we don't intend to stop here just because of a little gridiorn. Get our daily MLB picks or sign up for the entre last month for just $50! That's right, get the entire last month of MLB picks for just $50! The regular monthly fee is $150, so don't miss your chance to save $100 while building up your bankroll for MORE football and MLB PLAYOFFS! Get the last month of MLB and save 50% on ANY MLB Postseason Premium Services. Contact Us at main_eventbets@yahoo.com for more details
MLB REST OF SEASON PASS! $500! ***

MLB DAY PASS (All Picks) $15

***Rest of Season Pass will be the rest of the picks for the regular season and playoffs from the day you sign up through Game 7 of the World Series. Normal Season Price is $450.

___________________________

MLB SCORES
DIVISION STANDINGS
NEWS
___________________________
MLB Current Week Record:

2-1


MLB MTD Record:

12-9


MLB Season Record:

136-98



Tue. Sept. 8th:


St. Louis Cardinals -135 over Mil..

WIN


Atlanta Braves -140 over Houston...

WIN


Detroit -165 over KC...

LOSS



___________________________
Disclaimer: All Images, Team Names, Likenesses, and statistics are property of their respective owners or from the cited source. MainEvent Bets is in no way affiliated with Major League Baseball, National Football League, NCAA, NBA, NHL, ESPN, or any other professional sports league, team, or empire. All opinions expressed on this website are that of MainEvent Bets and should be taken exactly as opinions.