4th and Maine Quick Take: Week and a Half in
Thursday, Apr 16, 2009 | Feedback | Comment

(Maxim) 4th and Maine: Maybe motivation like this would have the Sox out to a better start then 3-6.
We are about a week and a half into the 2009 baseball season and things have been anything but normal. We have already seen some incredible things such as two men hitting for the cycle, a triple play, and the first players ever to hit home runs from both sides of the plate on opening day. In addition to this, we saw many staff aces getting shelled in their first or second outing, or both. The division leaders thus far in the season San Diego, Florida, Kansas City, Seattle, and Toronto are among the unlikely division leaders to this point. Teams like Milwaukee, the LA Angels, Red Sox, and Rays have struggled a little bit out of the gate. This lead many of you readers to e-mail into the blog and ask questions about your teams. You were asking if we thought that these early season losses are a sign of things to come or just early season struggles. Well, it can be a little bit of both. I mean, a game is a game. Weather it is played and won in Augusta, April, or July, it still counts just the same. They all add up the same way and in the end your record is your record. That being said, they do play 162 of these, and I wouldn't let any of you get to worked up over 8, 9 , or 10 games. These things usually tend to play themselves out and in the end the cream of the crop rises to the top. Check On Our Division Predictions:
AL East: Red Sox 3-6 (3.5 GB, 5th in AL East)
AL Central: White Sox 4-4 (.5 GB, 2nd in AL Central)
AL West: Seattle 7-2 (1st in AL West)
AL Wild Card: Rays 4-5 (2 GB of Wild Card)
NL East: Mets 4-4 (3 GB, 4th in NL East)
NL Central: Cubs 5-3 (1 GB, 2nd in NL Central)
NL West: Giants 2-6 (3.5 GB, 5th in NL West)
NL Wild Card: Braves 5-3 (.5 GB of NL Wild Card) So far we wish we could take back the Giants a little bit out there in the NL West. But digging a little deeper into things, perhaps this slow start will level out. The major glaring weakness for the Giants coming into the year was the offense. However, they have already scored 31 runs in 8 games, or almost 4 runs a game. It is their pitching that is letting them down. The staff is giving up almost SIX runs a game. That is not going to cut it. When you have Linececum, Cain, and the Big Unit on the same staff you need to pitch better then that. I refuse to believe that either division leader San Diego or LA is going to run away with things. We could still bounce back. Out in the AL West our pick of the Seattle Mariners is just looking brilliant, even though it is early. The M's have raced out to a 7-2 start so far this year and already lead their division by three games. In fact if it wasn't for a blown save in Brandon Morrow's first attempt, one in which is recorded two outs easily before losing, they would be off to an 8-1 start and franchise record. That being said, Morrow has locked it down and been a reliable closer since. The Mariners have also been getting terrific pitching from Jarrod Washburn, King Felix, and Eric Bedard. The other off-season acquisitions such as Endy Chavez and Franklin Gutierrez have been playing extremely well and this team looks as balanced as any in the American League. They may lack some of the power numbers but they will manufacture runs and play the baseball that the LA Angels use to play over the last few years when they were dominating the division. The Toronto Blue Jays have also been making us look foolish over the first ten games. The Jays lead all of baseball in runs scored bashing in a whopping 68 runs already. They lead baseball with a plus 22 run differential and have been playing phenomenal in all facets of the game. However, 4th and Maine is still here to caution you Canada. The Jays have yet to play any of the three AL East powers. They are still only just four games above .500 and will surely come back to earth when the murder's row schedule starts. None the less, the early starts of some of these teams not expected to do as much definitely leads to hope in almost all thirty cities that are homes to a major league club.
Quick Notes:
> Kevin Youkilis is off to an MVP-like campaign thus far in 2009 leading the Red Sox in batting average, home runs, runs, and OPS. Youkilis is hitting .472, has hit two home runs, and scores eights runs already. He has been the one consistent bat in the early season struggles of the Sox offense. After a strong WBC as well, there is no reason to believe Youk can't carry this on to an extremely strong season. > Ken Griffey Jr. was welcomed back to Seattle this past week for his first game as a Mariner. Seattle has been on fire lately, winning 6 in a row including starting 2-0 at home thus far. Junior didn't take long to give back to the fans of the pacific northwest as he blasted his 400th home run, and first back at home Wednesday night. In a 2-2 tie in 5th, Griffey blasted a trademark shot into the third row in right center to put Seattle up 3-2. The crowd went crazy and he was quickly called out for his first curtain call back in Seattle. Griffey becomes the first player ever to hit 400 home runs with one team, and 200 with another. He hit 210 in his time with Cincinnati. > I think the Florida Marlins should officially be the new face of "Moneyball" or small market baseball. The Oakland A's had a nice run of a couple division titles and a few playoff appearances but the Marlins have consistently been doing this since 2003. That year Josh Beckett, Mike Lowell, and others won the World Series. After that they gutted the roster, and have consistently done so year after year. They haven't brought in any big free agents and just keep retooling with kids. Even after doing so they have been consistently competitive in a tough division. Sure, they haven't made the playoff appearances that the A's did, but they are certainly the model of consistency for a very low payroll. Props to the Marlins. > 4th and Maine was on hand for the April 7th Tampa Bay Rays vs. Boston Red Sox game at Fenway Park. It was just the second game of the season but I have to tell you that Fenway Park is like no other. It has a truly playoff feel for every one of the 81 games that are played in the fens. The crowd was on all night despite the home town team falling 7-2 and Jon Lester getting a little roughed up. Highlight of the night: Sweet Caroline. 4th and Maine will also be on hand for the April 21st game that will feature the Minnesota Twins vs. Boston Red Sox. > How about Tim Wakefield's attempt at a no hitter in Oakland yesterday? Only Wakefield can get a little roughed up one outing, possibly giving up 8-10 runs, and then come out and pitch a gem. Wakefield admitted that it started to get into his head after 5 innings. Unfortunately it was broken up after 7 1/3 innings on a Suzuki base hit. Boston lost out on it's bid to tie the Dodgers for 40 no hitters, the most in MLB history. Please remember to keep sending in your questions to the e-mail address below. We have been getting increased e-mails and we should be putting together a mailbag soon. I also want to apologize for the time between the last few blogs, things got a little hectic around here and things should be getting a little bit back to normal.
Comment on this blog now. Join the Discussion. Or send in your direct feedback or questions for the mailbag to 4th and Maine.
_________________________

4th and Maine Quick Take: Title Game, Junior, Cutler, Sheff, more
Monday, Apr 6, 2009 | Feedback | Comment

(AP) 4th and Maine: We're calling for 18-22 HR's from Junior and a division title in '09.
We are just hours away from the college basketball 2009 National Championship game. As predicted last week here on 4th and Maine, the
North Carolina Tar Heels
will square off against the hometown favorite
Michigan State Spartans.
The game will take place in Detroit, Michigan and if the final four was any indication a good majority of the 72,000+ in attendance will be strongly behind the Spartans. However, the Tar Heels are one of the top programs in college basketball and they travel well. I expect a strong showing of their fans, perhaps a little bit better then UConn on Saturday, but not nearly enough to level it out. The Spartans are on a roll. They have quite possibly beaten the best collection of teams in this tournament to get here. They have defeated a #3 and defending national champion in
Kansas
, and two #1 seeds in
Louisville and Connecticut
. They have come together at the right time and have played an excellent blend of defense and timely shooting to overcome the odds and carry the flag of the
Big 10
to the finals. But they are running up against the most overall talented team in college basketball.
Ty Lawson
has shown that he is healthy and fully capable of taking control of the game and scoring in spurts. Couple that with
Tyler Hansborough's
intensity and hustle and solid play by other players such as
Danny Green and Wayne Ellington
the Tar Heels should be too much to handle for Michigan State. I don't think it's going to be as drastic as when these teams first played. I think the Spartans will get timely shots by
Goron Suton
will pull Hansborough away from the basket and allow the Spartans to penetrate. However, in the end they won't quite have enough. I think the Tar Heels will pull away a little bit in the second half getting up by as much as 12 or 13 before Michigan State makes a little bit of a run but runs out of time.
2009 National Champion Prediction: UNC 79-72
Quick Take Notes:
Gary Sheffield
was released from the
Detroit Tigers
this week with
499 Home Runs.
It seemed like a cruel thing to do to a veteran so close to a huge milestone. However he was picked up by
New York Mets
just days later. Where does he fit? Well with the emergence of Daniel Murphy in LF this year he will probably play right field pretty regularly with the occasional day off. Sheffield should still have some good pop in his bat, and although being a defensive liability should still hit twenty to twenty five home runs. It's a nice pickup around
David Wright, Jose Reyes, Carlos Delgado, and Carlos Beltran.
Ichiro Suzuki
of the
Seattle Mariners
will start season on 15 day DL. My pick for the AL West will surely be hurt early by this news. He was playing pretty well leading Japan to their second straight World Baseball Classic victory. Hopefully the return of
Ken Griffey Jr.
will be enough of an emotional boost as he plays his first game back in uniform and then his first game back in Safeco field. Although I don't expect to see classic kid, I do think he can pride a life early and get the Mariners through the early season without Ichiro. Griffey can hit 17-22 home runs and knock in 75-90 rbi's.
Adrian Beltre
will be an even bigger piece to the puzzle of Seattle is going to make the kind of run I see them making.
Jay Cutler
is a little
bitch.
Plain a simple. The
Chicago Bears
are feeling pure ecstasy after they finally acquired their "franchise" quarterback. Now I know Jay Cutler had a pro-bowl season last year for a team that couldn't play defense and got their offense back on the field in record times. However, this guy is a whining little cry baby. So what that you were in trade rumors, it happens to each and every superstar in the game. The media gets information and rolls with it. It's something you have to deal with. Now Chicago has mortgaged the house on you, and is going to regret it. To a certain extend it reminds me of when the Saints overpaid for
Ricky Williams.
Two first round picks, a third, and a serviceable QB in
Kyle Orton
is way too much. My question is when Cutler throws a few picks in the windy city and the Bears are 1-3 and the fans start calling for his head, is he going to have such thin skin? If he does, he'll never last and it will just be another failed Chicago QB. The New York football Giants cut
Plaxico Burress
this week in the middle of all of his legal trouble. It looks as if Plaxico will go to jail, but it's not certain when. So that brings the question, will he sign elsewhere? Who knows, if he can get his legal trouble out of the way but if he does or he can get an extension, a team may take a flyer on him. A Chicago Bears or Jacksonville Jaguars kind of team. Although I don't see him signing anywhere, it should be interesting to see how it plays out. This week the Detroit Pistons announced that guard
Allen Iverson
will be out for the remainder of season. The team has also fallen to 37-40 and in a tie for 7th/8th place in the Eastern Conference with the Chicago Bulls. As of now, both teams are three games ahead of the Bobcats with five to play and both should make the playoffs. They will be looking at a date with either the Cavaliers or the Celtics in the first round. Not an envious task. Meanwhile in Denver,
Chauncey Billups
has the Nuggets 52-26 and comfortably in the number two seed out West. If the season ended today they would be facing the Utah Jazz. But that could change several times over the next couple of days. With big shot Billups and
Carmelo Anthony
playing well with
J.R. Smith
off the bench I have to believe that the Nuggets will get out of the first round and make a strong playoff push. One just has to ask now, do the Pistons regret this trade or what? They are coming off six straight Eastern Conference title appearances and now are struggling just to make the playoffs. I know they were trying to slash payroll but was Iverson for Billups one of the worst trades in the last ten years? I would say it is. In our first and quite possibly only hockey note: The
Boston Bruins
clinched the #1 seed in the NHL's Eastern Conference this week. I am pretty stoked to hear this and look forward to the NHL playoffs. However, I think I've seen the previews for this movie before. I'll take it all in stride and take the playoffs one game at a time even going up against the eighth seed, which looks like it will be the Rangers or the Panthers. At least it won't be against the Canadians. I want to believe, just give me a reason. The Patriots, the Red Sox, and the Celtics have all won Championships in the last four years, it's your turn B's. In case you missed it last week 4th and Maine previewed each and every team in the American League East. You can find the full previews in the Archive to the right, but here is a recap of how we predicted them:
Projected AL East Standings:

Red Sox 96-66
Rays 89-73
Yanks 87-75
Orioles 72-90
Blue Jays 69-93
Other Division Winners:
Central: White Sox
West: Mariners
Wild Card: Rays National League:
East: Mets
Central: Cubs
West: Giants
Wild Card: Braves Check back for full playoff predictions and the reaction to the National Championship game.
Comment on this blog now. Join the Discussion. Or send in your direct feedback or questions for the mailbag to 4th and Maine.
_________________________

Scouting the Competition: New York Yankees Preview 09
Monday, April 6, 2009 | Feedback | Comment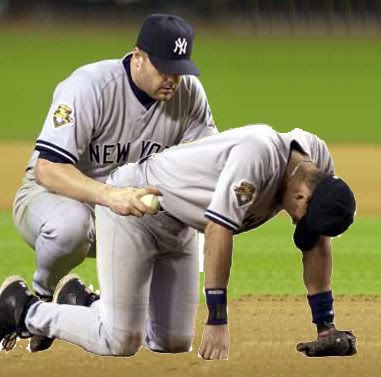 (AP) 4th and Maine: Send Us Your Caption For This Pic. Ours: Reliving the Glory Days, Jeter takes the Rocket Deep
The New York Yankees were for a very long time the dominant team of the American League East. It seems like not that long ago that the team filled with clutch players such as
Scott Brosius, Paul O'Neil, and Bernie Williams
were winning three championships in four years. But in reality it
has been a decade since the Yankees have won a World Championship,
and has now been six years since they have even appeared in the World Series. In fact since the last time they were there the
Boston Red Sox
have been twice and the
Tampa Bay Rays
have now been once. Despite those facts, the Evil Empire is still spending money hand over fist to try and change their playoff results, and they hope that ringing in the new stadium in 2009 will provide extra motivation. Most of that money they are spending, about 400 million dollars, went into three players in the off-season:
Mark Teixeira, C.C. Sabathia, and A.J. Burnett.
Their main goal was to shore up what was a very shaky rotation last year, while adding some additional support to
Alex RoIdriguez
(Yes, I'm aware of the typo)
since they lost
Jason Giambi
and
Bobby Abreau
to a couple of teams out west. That was the plan anyway, suddenly A-Roid has a bad hip and will be out until late April or early May. He will then try to return and fit into a quite aging Yankee lineup. With Alex out, their projected opening day lineup will look a little something like this:
Derek Jeter SS
Johnny Damon LF/DH
Mark Teixeira 1B/DH
Hideki Matsui LF/DH
Jorge Posada C
Robinson Cano 2B
Xavier Nady RF
Cody Ransom 3B
Brett Gardner CF
Now if Jeter and Damon can revert back to their old form and be consistently getting on base and scoring a ton of runs, then this lineup may fare better then last year. I just don't know how much of that is going to happen. Damon is another year older and has declined a bit since going to the Bronx. Jeter, well he's their captain, and he will get his numbers. Teixeira, good addition. They may have overpaid slightly, but that's what the Yankees do. He will play fairly and hit 30-35 home runs. Matsui and Posada are additional question marks, as both have battled injuries in recent years and are approaching the closer side to 40. Cano and Nady should be solid and serviceable players at their positions, very underrated and appreciated by mass media and many Yankee fans I'm sure. Ransom and Gardner are garbage and just fillers at the bottom of the lineup. So the lineup has a large cloud over hits head and frankly doesn't look very Yankee-link. Your next argument would well, insert Alex RoIdriguez in there behind Teixeira and then it will be a whole lot stronger. Will it? Alex is going to be coming back from an injury where he elected to have minor surgery rather then a more serious procedure that would of had him out nearly if not all year in order to cure the problem. When he does come back, will he be able to hold up for the rest of the year? If he doesn't their cooked. If he does, how long will he take to get his timing and rhythm down? Will he be able to overcome all the other distractions of the steroid revelations and be able to put up big numbers? How is he going to handle sharing the spotlight with Teixeria? What is Mark comes in and plays great and the fans love him, while still hating A-Roid? There are a lot of distractions and potential story lines here, and I think he is going to be more of a problem then a help to this club in 2009. The starting rotation appears to be the strong point to this team this year. Which is a plus since it was probably their biggest weakness in 2008. They added the two big free agent arms and they also resigned Andy Pettitte, allowing him to get closer to finishing his career in pinstripes. Their projected 2009 starting rotation looks a little something like this:
C.C. Sabathia LHP
Chien Min Wang RHP
A.J. Burnett RHP
Andy Pettitte LHP
Joba Chamberlain RHP
Now the rotation looks very strong on paper, but it has it's question marks and holes just like the lineup. Sabathia was an animal last year for the Brewers down the stretch, but he threw more pitches then any other pitcher in the game. He also is stepping into the pinstripes with a huge contract and gigantic expectations. He was in Clevleand, but that is no market like New York. This is going to be a whole new animal, and we will see how he responds. A.J. Burnett? I think we know what we are going to get with him. He has a history of injury problems, and I think will be another
Carl Pavano
or
Matt Clement
, a huge bust. He will probably be only a factor in about ten decisions going 6-4 or 5-5 and being out most of the year. Wang and Pettitte will be classic Yankees and give the Sox and Rays fits and probably win between 15-20 games each. Joba? The young stud has fizzled out a little bit since moving into the rotation and by all indications his speed his down in the spring. Maybe arm fatigue already, as he pitched many more innings last year then he was use too. Another whole year of that, who knows if his arm will hold up. Even if it does, him being in the rotation still takes away from a very important spot. The bullpen.
Mariano Rivera
is back to do the closing duties in the new stadium, but after that, there isn't much. In fact there are little in name recognition and bridging the gap to the closer will be tough this year. They are going to need their rotation to go long innings and pitch well for extended periods of time if they are going to be successful. Their lineup is aging and will not score as many runs as in years past. I don't think the rotation has the reputation to hold up. Sabathia threw a ton of innings last year and is a big guy. Wang is coming off of injuries. Pettitte is another year older. Burnett could be out for a month is he breaks a nail. Joba is already down in velocity and arm fatigue could be around the corner. This team could look a lot different by July, and not in a good way.
Prediction: 87-75
Comment on this blog now. Join the Discussion. Or send in your direct feedback or questions for the mailbag to 4th and Maine.
_________________________

Scouting the Competition: Toronto Blue Jays Preview 09
Sunday, Apr 5, 2009 | Feedback | Comment

(AP) 4th and Maine: The Jays would love a return to glory. Not gonna happen.
The Toronto Blue Jays have long thought they would be that third power team in the American League East and they have made many moves in the past with an eye at taking down the
New York Yankees
and
Boston Red Sox
. However, all those moves seem to have been for not as they were on the outside looking in as the
Tampa Bay Rays
were that team to overtake both the Evil Empire and RedSox Nation. But, seeing that does provide motivation, and the Jays will go into 2009 with the thought that maybe this is their year to get over the hump. In order to do so, like most teams, the Jays will have to get excellent pitching from both the starting staff and probably even more importantly, the bullpen. The Jays still have staff ace,
Roy Halladay
, who has won 16 or more games five times in his career. After you get past him though, it is slim pickings. The Jays of course lost
A.J. Burnett
to the Yankees this past offseason. How much will that hurt? Not too much, I am only projecting about a 6-4, maybe a 8-5 type of year from A.J. Burnett, nothing too strong. He has always been plagued by injuries, and will not be missed as much by Toronto as some of the "experts" think. But, will the guys that fill out the rotation be any more effective then that? It's a tough call. Let's take a look at their projected starting staff:
Roy Halladay RHP
David Purcey LHP
Jesse Litsch RHP
Ricky Romero LHP
Scott Richmond RHP
Now the rotation is going to be very young, but has tremendous upside.
Jesse Litsch
has had some extended time in the big leagues, going 13-9 with a 3.58 ERA. He should be a solid second or third starter, but the other three will be questionable. They have a little over a dozen MLB decisions combined, and will surely go through taking a few lumps in a division that is so deep. They may resemble a Rays like staff, but I am not sure these guys have the same kind of stuff and will probably not be as consistent. I look for them to struggle when Holladay or Litsch is not on the mound. As far as the bullpen? It is again anchored by closer,
B.J. Ryan.
There are a few question marks there if he can come back as healthy as in years past after struggling with injuries last year. The rest of the bullpen as quality arms, but nothing too flashy. They include
Scott Downs, Jeremy Accardo, Jesse Carlson, Brandon League
, and others. I think they will be able to throw some quality innings, but I am not so sure they can hold any potential close leads against Boston, Tampa, and New York. So in order for the Jays to be successful, they are going to have to mash a ton of runs. Toronto usually is capable of scoring a bunch of runs and this year shouldn't be much different. Their 2009 projected starting lineup looks a little something like this:

Marco Scutaro ss
Aaron Hill 2b
Alex Rios rf
Vernon Wells cf
Lyle Overbay 1b
Scott Rolen 3b
Rod Barajas c
Adam Lind dh
Travis Snyder lf
The top isn't a strong or as fast as some of the others in the division, but the power spots of
Rios, Wells, and Overbay
should match up nicely with anyone. They will be able to not only hit the ball over the fence but they should knock in a ton of runs. There is no question the Jays will put up runs, and they should get out to some early leads. But with marginal starting pitching and an average bullpen that could become quite weak if Ryan isn't healthy, it could be a long year north of the boarder. Do I not only see Toronto failing to compete with Tampa and New York for the second or third spot, I believe they will be having to fight off Baltimore for fourth/last in the AL East. In fact, they may be so far out of it by July they will look to trade any potential attractive pieces such as Rios, Wells, or Ryan. The bigger question: How long will Halladay have to suffer in Toronto?
Prediction: 69-93
Comment on this blog now. Join the Discussion. Or send in your direct feedback or questions for the mailbag to 4th and Maine.
_________________________

Scouting the Competition: Tampa Bay Rays Preview 09
Saturday, Apr 4, 2009 | Feedback | Comment

(AP) 4th and Maine: The Rays were throwing punches in '08, In 09: Just Bring It!
The Tampa Bay Rays had their first winning season in 2008. A winning season that propelled them to an AL East division title ahead of both Boston and New York, a season that saw them win their first playoff series, outlast the Red Sox in seven games for the ALCS, and even appear in the franchises first World Series. The Rays did all of this by having the best blend of young pitting talent, equally young position talent, and a few older veterans that were able to help bring it all together. This core of guys, which came together so well last year, is back this year and virtually in tact. They lost a little bit of the veteran leadership from last year, but they were able to replace it with a few more then capable guys. One thing is for sure, the rest of the division is better then last year. The
Yankees
of course added Texieria, Sabathia, and Burnett. The
Red Sox
were able to add Smoltz and Penny. The
Orioles
added overall lineup depth, and the
Bluejays
look to stay healthy and expand on the first full year of the season tour of manager Cito Gaston. In order for the Rays to make another run at this thing, they are going to need another outstanding year from both their starting staff, and their bullpen. Something they got from both of those units last year. Lets take a look at the projected starting staff for opening day:
RHP James Shields
LHP Scott Kazmir
RHP Matt Garza
RHP Andy Sonnantine
Jason Hammel or Jeff Niemann
With the announcement last week that LHP stud prospect
David Price
would start the year in the minors, that appears to be how their rotation will shake out for opening day. However don't expect it to stay that way for too long. Price showed what he can do in limit time down the stretch last year and it's only a matter of time before he is back up with the big club. Many big league scouts think
Jeff Niemann
, who is 6'9 and 260 pounds and has a 97 mph fastball, can be a very good major league started, but he struggles badly in his last outing. He may get the job early, but it doesn't appear to be a matter of if, but when they will make the call to the 2008 Minor league player of the year, David Price. As far as the bullpen it is largely intact from a terrific 2008 campaign.
JP Howell, Grant Balfour, Dan Wheeler, and Troy Percivel
are all back from what was either a career or comeback type year for all of them. Can they replicate last year success? That remains to be seen, but with a very strong starting staff, that should put the bullpen in as many chances to be successful as last year. Also, with the overall team so strong they could look to add an arm or two to the pen around July if it became a priority. I think they should be fine, just a few minor setbacks here and there. Looking at the Rays lineup, it is down right nasty. It could be jumbled a number of ways by
Joe Madden
during the season, but here's a look at one potential lineup:
1. Akinori Iwamura 2B
2. B.J. Upton CD
3. Carl Crawford LF
4. Carlos Pena 1B
5. Evan Longoria 3B
6. Pat Burrell RF/DH
7. Dionner Navarro C
8. Gabe Gross/Gabe Kapler RF/DH
9. Michael Barrett
One could argue that the lineup could be even better then last year.
Carl Crawford
battled some injuries and a sub par year for him numbers wise. He looks healthy and should bounce back.
Evan Longoria
will have a full season under his belt and should put up monster numbers.
B.J. Upton and Dionner Navarro
should mature a little more and be more consistent. Pena is coming off what was another strong campaign, we will see if he can keep up the pace of these last couple career years. Overall top to bottom this is one of the most feared lineups in baseball. With all that being said, I do look for the Rays to fall off a little bit this year. It is rough for any World Series team to make it back there the following year, let alone the loser of the Series. I look for them to stay in contention for the Wild Card until late August, but in the end injuries or a bust trade in July will take down their bullpen, and that will be their undoing.
Prediction: 89-73
Comment on this blog now. Join the Discussion. Or send in your direct feedback or questions for the mailbag to 4th and Maine.
_________________________

Scouting the Competition: Baltimore Orioles Preview 09
Wednesday, April 1, 2009 | Feedback | Comment
With the season fast approaching 4th and Maine will be running spring previews for the other four teams in the American League East. (In case you missed it 4th and Maine ran a Red Sox Team Preview on Sunday that can be found here.) The first of those four teams that we will be looking at are the
Baltimore Orioles.
The Orioles are coming off a disastrous
68-94
record in 2008, twenty six games under .500. In fact since 2001 the Orioles have never finished above .500 and in that time frame have never won more then 78 games. In fact in the last year years the Orioles have lost 739 games, or a little over 92 games a season. It makes me from a far at least, sort of miss the days of
Cal Ripken Jr., Brady Anderson, and Mike Mussina.
When the Orioles were competitive. But it has been a long fall, and Baltimore will try to take their first step up this season. They brought in some players that can add depth to the team and play multiple positions in
Ryan Freel, Felix Pie, and Ty Wiggington.
They also brought in
Cesar Izturis
to hopefully shore up what was basically a season long audition last year at the short stop position. The Orioles parted ways with old Red Sox
Kevin Millar
and former catcher
Ramon Hernandez.
Other then that the only other real subtraction was unreliable and inconsistent starting pitcher
Daniel Cabrera
and pitcher
Garrett Olson.
Altough the Orioles attempted to make a big splash with
Mark Teixeira
or
A.J. Burnett
, I do like what they did and their lineup should look a little something like this:
1. Brian Roberts 2B
2. Melvin Mora 3B
3. Nick Markakis RF
4. Aubrey Huff 1B
5. Luke Scott DH
6. Adam Jones CF
7. Cesar Izturis SS
8. Gregg Zaun
9. Felix Pie LF
It's not quite the young talent overall team that Tampa Bay broke out with last year, but their is reason for optimism with that lineup. There is good overall talent and if
Adam Jones
can develop in his second full season along with strong numbers from Mora and Markakis, this team should really make pitchers work and drive some coaches nuts. They will get guys on base, get timely hits and put a few runs on the board. But you still have to stop the other team from scoring. Taking one look at the Baltimore starting rotation and you will surely be left scratching your head asking: Who? It looks a little like this:
Jeremy Guthrie
Koji Uehara
Mark Hendrickson
David Pauley
Rich Hill
The Orioles have a couple strong arms in the minors, but they are in no hurry to rush them to the majors. So this will likely be their starting rotation. It doesn't exactly strike fear into the heart of opposing hitters and when you take a look at this, suddenly the lineup doesn't look so good. As far as the bullpen goes:
George Sherrill
is a solid closer, but by the time they get to him I'm not sure they are going to have a lead. So while it looks like they will score a few runs, it looks like they will give up a ton more.
I am looking for Baltimore to finish below .500 yet again.
They may be taking steps stock piling younger talent and arms with an eye towards the future and what the Rays did last year, but that won't happen this year. The Sox, Rays, and Yanks have nothing to worry about with this team.
Prediction: 72-90
_________________________
4th and Maine's Twitter Updates: